How 'Nevertheless, She Persisted' Went from Mitch McConnell's Lips to T-Shirts Everywhere
Thanks to sites like Redbubble and Teespring, anyone can make a political slogan wearable in just minutes.
In a late session of the Senate on the night of February 7th debating the measure of attorney general nominee Senator Jeff Sessions' current racism quotient, Senator Elizabeth Warren began to read a 1986 letter written by Coretta Scott King. The letter, which King wrote in opposition to Sessions' nomination to a federal judgeship, a position he was ultimately denied, had already been widely circulated in recent weeks, read on nightly broadcasts and republished by various online outlets. Still, that didn't prevent Majority Leader and antagonist from Men in Black who occupies Vincent D'Onofrio's rapidly decomposing body Mitch McConnell from wanting to silence her, leading a party-line vote forcing her to physically leave the room. Later, McConnell defended his gambit, complaining "Senator Warren was giving a lengthy speech. She had appeared to violate the rule. She was warned. She was given an explanation. Nevertheless, she persisted."
It was a schoolmarmish scolding, a string of words so inadvisable it almost seemed like a plant. McConnell is a loathsome, joyless person, possibly animated by strains of science which violate nature, but he knows his way around a soundbite. Yet this one seemed to fall out of his wattle and directly onto an embroidered decorative pillow. Here was a man plainly telling a woman to be quiet, and 49 other people agreeing that she should, in one of the highest levels of public society. In the distance, you could hear the purposeful clank of a thousand Etsy shops jolting to life.
The response was, predictably, swift and giddy — half indignation, half crowing. This was a gift, glinting brighter than a new 10-speed bicycle in the early Christmas morning sunlight. Its lyric potency helped. The words, even in McConnell's slurry, were lilting, its ideal triplet construction pleading for someone to tattoo it on their bicep. More than one person did.
View image on Twitter
Paige Wolf

✔

@paigewolf

.@SenWarren thank your boy for my new tattoo #Neverthelessshepersisted
View image on Twitter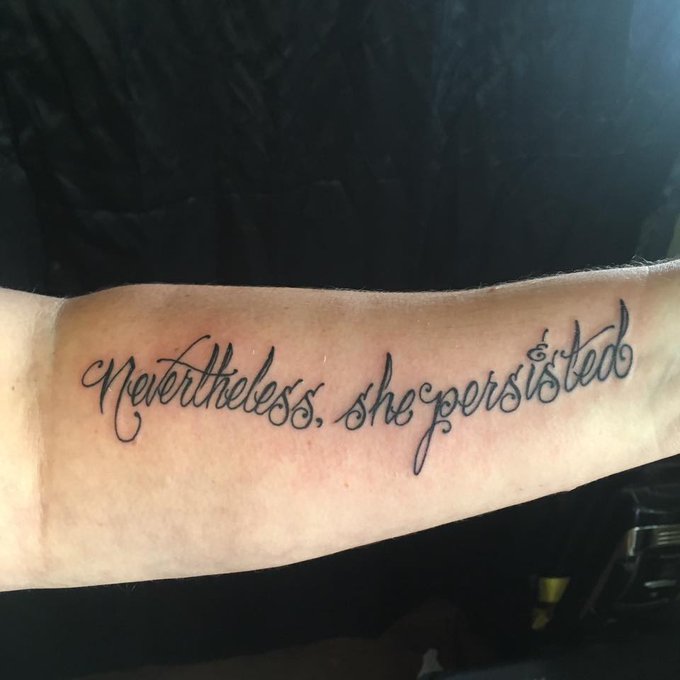 Avalon Tattoo II

@Avalontattoo2

#ShePersisted @SenWarren #resist done by Mike Stobbe at Avalon @Avalontattoo2 never give up, never surrender.... #takeourcountryback
View image on Twitter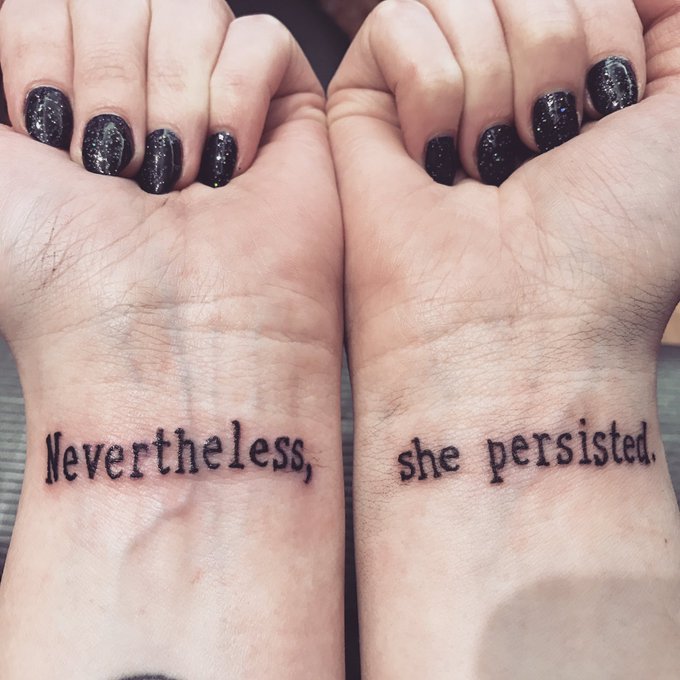 Elizah Kirt • Resist

@nerdgasming

"Nevertheless, she persisted." #letlizspeak #resist #resistance#shepersisted #tattoo @SenWarren
The human need to be equitably represented by a t-shirt should not be underestimated.
By late Wednesday morning, the site Redbubble, which produces t-shirts and other products printed with graphics generated by users and sells them on their behalf, was offering 658 "She Persisted" designs in varying degrees of design proficiency, all printed to order. If you chose the express option, you could have conceivably received yours in time to coordinate with Katy Perry, who performed at the Grammys in a matching armband. By Monday that number had grown to over 1,400. Some, like one which superimposes the phrase over an image of Queen Elizabeth I, are good, or at least visually interesting. Others, where the "Star Wars" Rebel Alliance logo is tucked inside a Venus symbol, are not. Among the 948 options available on Etsy a day later (2,275 on Monday) were a "She Persisted" skinny hand-stamped sterling cuff and a set of four "She Persisted" flour sack tea towels. These numbers make the "She Persisted" genre a burgeoning cottage industry. More robust examples of the form, such as the "Nasty Woman" category, currently return over 8,200 results, including Nasty Woman soy candles and a Nasty Woman/Bad Hombre oversize mug set.
It took Mel Beatty roughly an hour from the time the Warren story made the news to settle on her design of stacked, two-tone bubble lettering and upload it to Redbubble, which made it available for purchase as a t-shirt and sweatshirt, but also an A-line dress, iPad skin, travel mug, wall clock, and acrylic paperweight. As of Friday afternoon, Beatty says she sold roughly 1,100 units, good for nearly $2,800 (designers receive an average margin of 17% of the sale price on Redbubble), the entirety of which she says she plans to donate to Emily's List, a group which supports Democratic, pro-choice female political candidates. Beatty, who is not a professional graphic or apparel designer but rather an author in Frederick, MD, has been designing t-shirt graphics as a hobby for about a year, but nothing explicitly political or feminist, or on such a tight turnaround. She had been eager to donate money but never had the means, she says, until the idea to put McConnell's words on a shirt clicked. "It immediately struck as an encapsulation of women's rights movement," she says.
Matt Rudinski, an animator and motion graphic designer living in Brooklyn, estimates he took a quarter of that time on his design, getting a graphic onto Teespring, a similar site, around 12 am Wednesday. The white block text design was the first t-shirt he made, not to mention his first brush with online retail. As of February 13th, he says he's moved 25,000 shirts, plus another 2,500 pieces of assorted apparel such as leggings and baby onesies, raising over $250,000 he says will go to Planned Parenthood.
Sites like Redbubble, Teespring, Teepublic, and Society6 make the market for these products remarkably frictionless, smoothing out the risk otherwise inherent in an apparel and tchotchke retail business and allowing, as their web copy whispers, makers to focus on creating or creators to focus on making or some form of the same quixotic language. Why sully your hands in the supply chain when you could be creating, they purr, smashing some typefaces together in the embedded text editor and letting capitalism's sweet glow wash over you?
Their specific models vary, offering blends of manufacturing and logistics. They act as storefront, intermediary, and back-end, and then take their cut. Teespring, which operates similarly to Kickstarter, if the goal of every Kickstarter campaign were a t-shirt, and was founded — get this — by two guys in their dorm after they made a t-shirt — reported over $100 million in annual revenue in 2015 and $56.9 million in venture capital funding from firms like Andreessen Horowitz. Of these outfits, Big Cartel, has the most transparent name, because, as most companies have learned, T-shirts are effectively drugs — everyone dabbles at some point, and someone higher up the chain stands to make more money off of the sale.
Some designers choose to hawk t-shirts the old-fashioned way: by producing them themselves and then advertising them online. Terrence Ryan, a freelance graphic designer in San Francisco who goes by Lil Tuffy, was out to dinner Tuesday night discussing "the shock" of Warren being silenced. When he woke the next morning to McConnell's debrief, he decided to run with it, mocking up his design and sending an order out to a local printer partner, who had them ready in about an hour, and listing it on his Big Cartel page. He says he sold 80 shirts before noon. Ryan primarily creates concert poster art, but says even he felt compelled to commit the moment to cotton. "As soon as something like this happens, it's like lightening in a bottle."
Brands who choose to wade into this party risk complaints of bald profiteering. By augmenting these products as a vehicle for fundraising, they enjoy insulation from such criticism. Add a bit of feel-good messaging and you can continue merchandising outrage at will. Debuted last month, Opening Ceremony's "Action Capsule" of t-shirts and cropped hoodies stamped with generic protest language (like "Protest") is so hilariously bloodless it was hard to be completely appalled, even before someone there had a think about it and decided sales should benefit the ACLU. Reebok was not so sloppy. It announced its "She persisted" t-shirt Friday, with hopes that it would "inspire women everywhere from the Senate floor to the starting line of a marathon and everywhere in-between" and the promise that it would donate proceeds to the organizers of the Women's March — progressive politics and moral uplift: double check.
The merits of t-shirt activism are debatable. The market is not. "Should You Dress for Resistance at New York Fashion Week?" Vogue asked Friday morning, genuinely at some kind of neoliberal crossroad. Most can recognize we have arrived at a moment that demands action, if not yet agree what shape that action should take. In any case, it demands a gift shop. After all, what good is empowerment without the commemorative shirt to prove you were there?